IT Services for the Telecom Industry
CONNECTING THE FUTURE
The future is here - and it's changing the way we communicate. The 4th industrial revolution is upon us. It has the potential to radically transform communications, both in terms of what's possible and what's coming. The world needs a CSP that can anticipate these changes and adapt to them so that it can thrive in a rapidly changing environment. From the Metaverse to the 4IR and everything in between, we're ready for the challenges ahead. We know you are too.
Start with
experience
End with
solutions
The impact we do
Our expert consultants build the kind of products that are changing the way telecommunication companies work and deliver services. With years of applied expertise within the telecommunication industry, we build custom telecom software and other solutions made to enhance customer and employee experience. No matter where you are on your transformation journey, we have complete solutions, flexible delivery options, and a support network across 30 sites in 6 countries. Discover why leading telecommunications companies and innovative startups have partnered with us.
Competencies
Our expert teams in Sweden, Germany, Norway, and Hungary provide a wide range of competencies to help our clients adapt to new technologies, business models and market trends.
IoT connectivity
We help innovative companies create IoT devices and support managed service providers with solutions to connect, operate and monitor their connected devices.
Service development and delivery
We develop and deliver a wide range of telecom software solutions and services such as voice, data, and video services, to customers.
Big data
We help our customers make informed decisions and drive growth with our advanced analytics and BI services powered by cutting-edge big data tools.
5G/6G
Our expertise lies in providing cutting-edge IT solutions specifically tailored for the telecom industry, with a strong focus on the latest advancements in 5G and 6G technologies.
Network infrastructure
We support and manage communication networks, including wired and wireless networks, as well as data centers and other infrastructure.
Customer management
Our expert teams in Sweden and Hungary develop comprehensive IT solutions to manage customer relationships, including marketing, sales, billing, and customer service.
Employee experience
Our IT solutions for employee experience encompass an array of essential components such as product information systems, training platforms, and collaboration tools to enhance productivity and foster seamless collaboration within your organization.
Telecom IT solutions for the entire value chain
We are involved in all activities in delivering telecommunications services to customers, helping our clients adapt to new technology and develop new business models.
Network planning
and design
Network operation
and management
Service development
and delivery
Customer
management
Network optimization
and revenue management
Network planning
and design
Network operation
and management
Service development
and delivery
Network optimization
and revenue management
Network planning
and design
Network operation
and management
Service development
and delivery
Network optimization
and revenue management
Our clients
Our company specializes in creating telecom IT solutions for various types of service providers, including internet providers, landline providers, media companies, broadcasting firms, mobile network operators, and others. These solutions are designed to assist our clients in maintaining their business operations, expanding their service coverage, and improving customer engagement.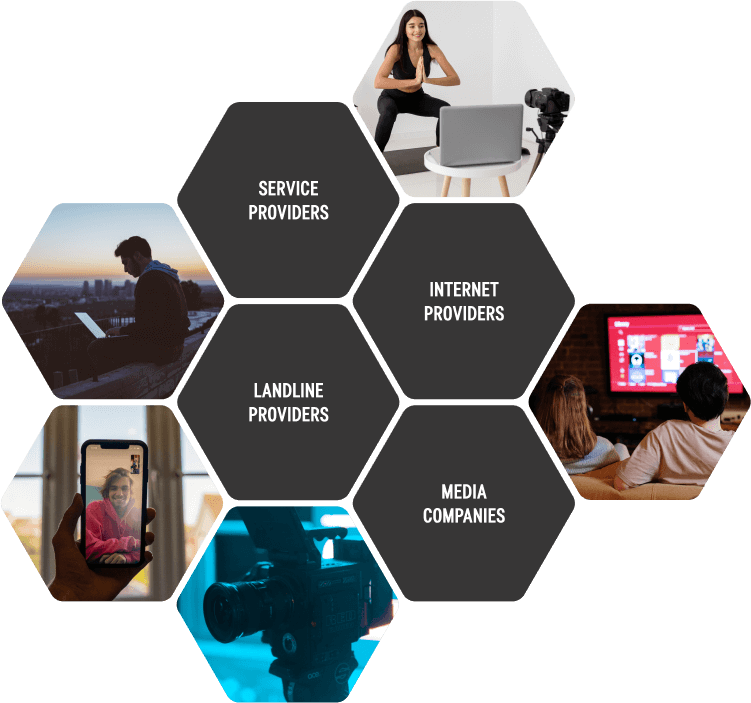 Related services
Digital Transformation
Our Digital Transformation services for the telecom industry drive innovation and growth by helping businesses harness the power of emerging technologies and digital strategies. We enable telecom companies to modernize their operations, optimize customer experiences, and unlock new revenue streams.
IoT solutions
Digital strategy
IT infrastructure development
DevOps
Customer experience
Cloud solutions
Cloud transformation
Our cloud transformation services for the telecom industry enable businesses to seamlessly migrate their infrastructure and operations to the cloud, unlocking the power of scalable, flexible, and secure cloud technologies.
well-architected review
Cloud strategy
Cloud migration planning and execution
application modernization
cloud management
Cybersecurity
Our cybersecurity services for the telecom industry provide comprehensive protection against evolving threats and vulnerabilities, safeguarding critical infrastructure, sensitive data, and customer privacy.
vulnerability assessments and penetration testing
network and application security
firewalls implementation
security incident response
employee awareness training
monitoring solutions
Big Data and Analytics
Our BI and Data Analytics services for the telecom industry empower businesses to gain actionable insights from their vast volumes of data, enabling data-driven decision-making and improved operational efficiency.
data integration and aggregation
data cleansing and quality assurance
development and implementation of data models and frameworks
interactive dashboards and reports
data mining and predictive modeling
RevOps consulting
AI/ML
Product information
Our Product Information services for the telecom industry provide comprehensive management and enrichment of product data, enabling telecom companies to effectively showcase and market their offerings. We streamline the product information lifecycle, ensuring accurate, consistent, and up-to-date product details across various channels.
Product information creation
taxonomy development and categorization
UX writing
Graphic design and 3D modeling
Translation
Product information management
Success stories
Custom Content Management System
Android
Terraform
Cisco
Ansible
Power BI
Node Js
ELK Stack
Ni
Kubernets
MatLab
Kotlin
C++
RASB
Java
Azure
Docker
Linux
Openshift
We make technologies usable
We empower our customers to embrace new technologies and thrive in the era of connectivity, enabling them to gain a competitive edge and drive their evolution forward.
Ar Core
Digital Ocean
GitHub
Prometheus
CVI
IOS
HOW WE DELIVER
Sigma Technology, a leading software development consulting company, provides a comprehensive range of IT services tailored to the telecom industry. With our "Local Drive - Global Strength" philosophy, we offer high-quality local delivery combined with a global reach and access to expertise and resources. Whether you require consulting services for digital success or a dedicated team to handle your software development project, we have flexible collaboration models, including consulting, outsourcing, dedicated teams, and on-project collaboration, to meet your specific business needs. From Proof of Concept to market launch and post-production support, we ensure full-cycle project execution for telecom companies seeking reliable IT solutions.
3400
UNITING EXPERTS WORLDWIDE
30
FLAT STRUCTURE OFFICES IN 6 COUNTRIES
89,3%
CUSTOMER SATISFACTION LEVEL
Nearshore/
remote delivery/
outsourcing
CONTACT US
We will be happy to answer your questions and tell more. You can send us your question to get a consultation